Calibrated Strategic Planning
The world today requires much of its leaders. One of its greatest requirements is speed of decision-making and action. What is frequently sacrificed is strategic think time and planning. In the rush to make things happen, today's leader often does not take the time to consider his or her path as profoundly as necessary. Instead, we react to what comes our way without charting our own course or driving to a vision of the future. It is harder than ever to resist the siren call of email or the phone or the knock on the door.
Serving both Orange and Los Angeles Counties, Cain-Stanley & Co. works with leaders and their organizations to create strategic visions and plans to achieve these visions. We work not only on the front end in setting up and creating the conversations, but at the back-end in executing, measuring, monitoring and adjusting to achieve the desired outcomes.
We work in the following 4 areas in Calibrated Strategic Planning:
Download Our Brochure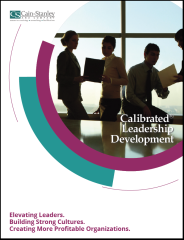 Click image to download brochure