Cain-Stanley & Co., based in Orange County, with clients throughout the U.S., is a leadership development company in all its forms. Whether a client needs to strengthen individual or team communications, relationship building, strategic planning, or leadership, we have the expertise. We can coach it, assess it, train it, facilitate it or build it with a 17-year track record of impressive results. Our consultants have been business leaders which allows us to quickly assess a situation, call upon our experience and training, and create a tailored, high-impact program or solution. We are first and foremost strategic advisors who collectively and individually seek to partner to design solutions that make a difference.
A brief history…
Seventeen years into her highly successful career with AT&T, Patti Cain-Stanley was sitting at the top of her professional game. While she loved her job, she wanted more. Born into a long lineage of entrepreneurs, she knew that running her own business was what she was meant to do.  In 2000, she leapt into entrepreneurship, leaving behind the senior leadership roles and corporate stability she had always known.  Cain-Stanley & Co. was born.
For the next 12 years, executives from companies leaned on Patti to help them grow their business by growing themselves and their team.
Patti strengthened their skills in five key areas:
leadership development
vision creation
communication
relationship-building
strategic thinking
Sharing powerful insights, strategies, and tools, Patti equipped her clients to break through roadblocks and maximize their leadership potential.
In 2013, the demand for services was beyond her capacity so Patti invited in her first coach and consultant. Today, the Cain-Stanley & Co. team includes 5 management and 10 coaches/consultants with outstanding corporate development track records. Our team has developed leaders for numerous companies including Raytheon, Mattel, UCLA, Cisco, Wells Fargo, Walt Disney and Verizon, to name a few.
In addition to the above, we have added these specialties:
leadership development and transitions
assessment workshops
conflict resolution
partnership facilitation
executive presence
organizational development
Our central tenet is this: leadership transcends everything. When you and your team invest in leadership and communications growth and development, performance follows…employees and clients reward you with loyalty, both to you and your company.
Download Our Brochure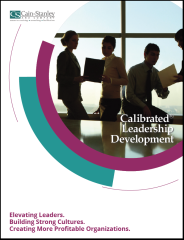 Click image to download brochure