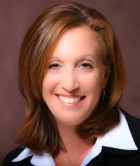 As Executive Assistant for Cain-Stanley & Co., Angela York's primary responsibility is to administratively support Patti and all staff members, including, but not limited to, research, proposal editing, meeting preparation/follow up, presentation creation and workflow management.
Prior to coming to work at Cain-Stanley & Co. Angela worked as a Consultant to many companies in a variety of industries providing administrative, marketing, and operational support. Her areas of expertise are in all areas of executive administrative duties, marketing implementation and event planning. Angela enjoys organizing all of those tiny little details that are so daunting and works to keep all the balls in the air, usually without dropping any!
Preceding her role as a Consultant, Angela was the VP of Marketing and Executive Assistant to the CEO at Ashton Group, Wealth Management. There Angela implemented all Center of Influence marketing, managed all vendor relations, client communications and events. Additionally, she managed the CEO's calendar, travel, webinars and communications. One of her more enjoyable projects was handling all the details surrounding the company's involvement in the annual Heckerling Estate Planning Conference in Florida each year which included everything from panel discussions, booth exhibits and networking parties. Before her near-decade at Ashton Group, Angela worked at Advertising Agencies handling advertising and marketing for a variety of Healthcare Practices, Automotive Dealerships and Orange County Restaurants.
Angela received a Bachelor of Arts Degree in Communication from the Annenberg School for Communication & Journalism at USC. She also received course extension certificates from California State University-Fullerton and University of California-Irvine in the areas of business administration and direct marketing.
Angela has been at Cain-Stanley & Co. since 2018.