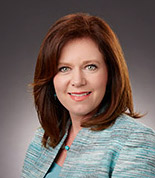 Described by peers as innovative, results-oriented and driven, Kimberly Gerber shares more than two decades of experience leading Fortune 500 companies, C-level executives, entrepreneurs, millennials and high-potential employees toward real results. Kimberly has a depth of experience in interpersonal and public communication around which she delivers workshops, executive coaching and interventions designed to optimize professional development and improve organizational productivity.
Kimberly is responsible for designing and leading popular coaching and skills training programs that help participants master the art of communication. These programs include intensive hands-on workshops, presentations, round table discussions and practical exercises. Kimberly has worked with both large and small organizations, among them several Fortune 500 companies and industry leading organizations including Verizon Wireless, Allergan, Whirlpool, UCLA, Arbonne, MeadWestvaco, Roche, Glidewell and Southern California Edison.
Kimberly's core business philosophies have guided her through a rewarding career, which includes roles as Marketing Director of Starbucks Coffee's largest business unit and as Marketing Director for Fleetwood Enterprises. In these roles, she led and launched a $40M national, fully integrated branding campaign, reversed negative sales trends through the development of integrated marketing and operational growth plans, and pioneered the mobile Starbucks store that generated more than $500K in media value along with revenue covering 52 percent of operating costs. As co-founder of San Diego based California Home Care in 1994, Kimberly also played an instrumental role in driving million-dollar operational growth in just six months.
Kimberly has a long history supporting non-profit and community service initiatives. From 2006-2012, she she served on the NAWBO Board (National Association of Women Business Owners), has mentored emancipated foster youth, and served on committees for The American Heart Association. Kimberly sits on the advisory council for the Gerson Lehrman Group, a Wall Street technology advisory firm.
Kimberly Gerber holds a B.A. in Marketing and Public Communications from SUNY Buffalo, and has completed graduate work at San Diego State University. She is a graduate of Newfield, an ICF certified executive coaching program and is a LACBA Certified Mediator. Kimberly lives in Irvine CA with her husband and three children. In her spare time she enjoys soccer, gymnastics and horseback riding – from the sidelines.
Kimberly Gerber has been coaching/consulting since 2002 and working with Cain-Stanley & Co. since 2007.