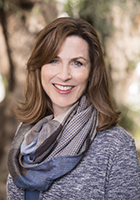 Patti Cain-Stanley
brings 23 years of sales, operations, leadership, and coaching success in the fast-paced, ever-changing communications industry to aid executives and entrepreneurs in achieving peak performance and a balanced life.  Her breadth of experience at AT&T, Lucent Technologies, and in a telecom start-up, equips her with first-hand corporate and entrepreneurial experience to benefit her clients and to augment her coaching. Likewise, Patti has been running her own successful coaching, facilitation, and consulting business,
Cain-Stanley & Co
. (CSC), based in S. California since 2000.
As a AT&T/Lucent Technologies Vice President and General Manager for CA, NV, & HI, Patti led a $120 million channel sales and service enterprise.  Selling products and services to end-users and business partners gave Patti experience in meeting performance expectations through both direct and indirect channels.
Previously, Patti was tapped to open a franchise-style business for AT&T, moving from the organization's standard large branch model to the small, fleet-of-foot, entrepreneurial model.  In three years, she moved the franchise from 52nd to 4th nationally, as measured on an 8-point financial and qualitative scale.  The success Patti achieved was due in great measure to the executive coaching she received as a senior leader with AT&T.
From this winning formula, Patti created the D.Y.N.A.M.I.C. Executive™ Coaching Program; an integrated, advanced coaching program that propels extraordinary leadership.  Through three developmental avenues, Patti and her consultants partner with the individual, team, or organization for sustained paradigm shifts, graduate-level thinking and development of highly-prized leadership and communication skills.
While climbing the corporate ladder, and later when developing her own business, Patti was also raising a family.  Constantly evaluating the trade-offs between work, family, and personal time, she successfully juggled priorities to maintain a balanced and fulfilled life.  Executive coaching has been a strong aid in this pursuit as both the family and work demands intensified simultaneously.  Patti maintains the need for balance in all areas and strives to incorporate this dimension in her work streams.  Patti's interests center around her family, travel, yoga, jogging and outdoor sports.
Patti received a degree in Business Administration from the University of Florida, summa cum laude.  She has participated in Executive Education programs at MIT and Indiana University's Kelley Management School.  Patti is a graduate of the New Ventures West's Integral Coaching Program and has enhanced her training through courses from the Hudson Institute and CoachU.   She is a member of the Professional Mentors and Coaching Association (PCMA) and an ACC, Associate Certified Coach, through the International Coaching Federation (ICF) and is on the board of the NAWBO—National Organization of Women Business Owners.  In addition, Patti is certified in several 360° feedback tools and many different leadership assessments.
Patti has been coaching since 2000.